Highlights
● Sea and mountains: a two-day cycling tour around the Izu Peninsula
On the south Mt. Fuji, the Izu Peninsula protrudes about 50km into the Pacific Ocean and features hilly terrain, a complex coastline, and abundant hot springs.
Near the historical hot spring area of Shuzenji, which is located in the center of the Izu Peninsula, you can ride along one of Japan's most spectacular roads, which offers commanding views of Mt. Fuji and Suruga Bay, and enjoy a cycling tour taking in the beautiful mountainscapes and seascapes of Izu. Don't worry. You can rent an e-hybrid bike. Then, the hilly terrain is nothing to be afraid of.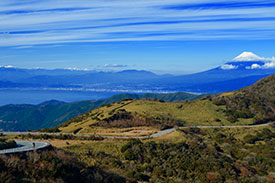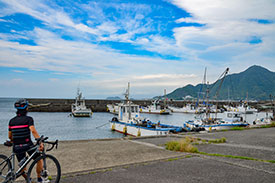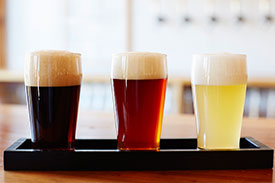 ●

2 days guided cycling tour (ride 50-60 km / day)

●

Guide and support cars will always accompany the rides. Please enjoy the ride with a peace of mind.

●

Luxury sports bicycles are available on rent. Electric assisted cross bikes are also available so you can participate in the tour as a couple with different physical strengths, for example. *Optional

●

Accommodations consist of a room with an open-air bath with magnificent views. Enjoy Shuzenji hot springs to soothe your tired body after the ride.
In addition, you can spend time refreshing in the hot spring public bath or bedrock bath* (*optional).

●

Dinner is selected from a power-charge menu with plenty of local ingredients. Grilled dishes and Japanese dishes will be prepared on a daily basis.

●

Tour guidance will be in English.
Itinerary
November 19, 2018 (Monday) ~ November 22, 2018 (Thursday)
* 3 nights, 4 days
Price
147,800 yen per person (tax, service charge, bathing tax excluded)
* In the case of application by one person, the price will increase by 22,500 yen.
* Please pay when checking out.

The price includes:
・Ride tour: 2 days (cycling 50–60 km/day)
 * Accompanying guide and support cars.
・Accommodations:
3 nights (Deluxe Room with Open-Air Bath)
・Meals: 3 breakfasts, 2 lunches, 2 dinners
・Drinks and energy supplements during the ride
・Marriott original souvenir
・Mechanical support
・Insurance fee
* Please bring your own road bike. The bicycle that you bring can be stored in your room.
* If you would like to rent a bicycle, please see the information about "Bike Rental."
| | Day 1 | Day 2 | Day 3 | Day 4 |
| --- | --- | --- | --- | --- |
| Breakfast | ― | ● | ● | ● |
| Ride Tour & Lunch | ― | ● | ● | ― |
| Dinner | ― | ● | ● | ― |
Bike Rental
Please apply when reserving the tour.
・ 1 carbon road bike (BOMA) costs 8,000 yen (excluding tax) * Includes helmet
・ 1 aluminum road bike (CANNONDALE SLATE) costs 8,000 yen (excluding tax) * Includes helmet
・ 1 e-Hybrid bike (YAMAHA) costs 8,000 yen (excluding tax) * Includes helmet
* There will be a limited number and size of rental bikes available.
* Please bring your own pedals. There will be a limited number of flat pedals available.
Belongings
・Road bike & helmet
 * Rentals will also be available. For details, please refer to the information on "Bike Rental"
・Cycling and rain wear suitable for the ride
・Protection against cold to prevent the body from cooling down during rests and stops
・Cycling gloves and shoes
・Drink bottle
 * Drinks will be offered during the ride.
・Supplementary food and gel
 * Supplementary food will be offered during the ride, but please bring your own if you like.
Eligibility
for
Participation
・Healthy, 18〜70 years old
* Minors must be accompanied by guardians.
・Over 150 cm tall
・Beginner to intermediate tour level
・Experience traveling of more than 50 km by sports bike
・Experience with group rides, value teamwork
・Agree to the "Bike Tours Terms & Conditions"
Number of
People
16 people (minimum 4 participants)
Schedule
< Day 1 (11/19) >
3:00 pm

Check-in
* Please check in at your preferred time after 3:00 pm.
* Please enjoy dinner around the hotel.
< Day 2 & 3 (11/20 & 21) >
7:30 am

Breakfast

8:30 am

Departure for a ride tour
Lunch

5:00 pm

Arrive at hotel

7:00 pm

Power-charge dinner
< Day 4 (11/22) >
11:00 am

Check-out
* The schedule is subject to change.
* Tour will go ahead in case of light rain. However, if extreme bad weather is expected, it will be held under a separate program.
Cancellation
Policy
If you wish to cancel your tour, please notify Izu Marriott Hotel Shuzenji in writing. Once Izu Marriott Hotel Shuzenji receives your notice, cancellation will take effect with following cancellation charge.

Days prior to departure / Cancellation Charge:
・ 7 days / 50% of tour price
・ 5 days / 80% of tour price
・ Departure day / 100% of tour price
Terms & Conditions
Bike Tours Terms & Conditions is here
Application
Application form is here
Application deadline ; October 29, 2018
Inquiries
About the hotel; Izu Marriott Hotel Shuzenji E-MAIL: info@izu-marriott.com
About the ride tour; Ride Experience E-MAIL: info@ride-experience.com
* Inquiries will only be handled in English or Japanese.