Contest Dates
FINISH
How It Works
①Follow the official JapaTabi Twitter account @JapaTabi_com
② Add the hashtag #MarriottResortStories and tweet your experiences of staying at a Marriott Hotel (Dreams and fantasies also applicable).
Entry Qualifi-
cations
Entry Qualifications
Those who have agreed to the Entry Rules
* A minor may enter if his/her guardian has agreed to the content of these terms of use.
Prizes

Prize A:Marriott Hotel voucher*. 20 winners selected out of 10 groups.
*Target Hotel
・Karuizawa Marriott Hotel
・Nanki-Shirahama Marriott Hotel
・Fuji Marriott Hotel Lake Yamanaka
・Izu Marriott Hotel Shuzenji
・Lake Biwa Marriott Hotel

Prize B:A mobile battery charger. 30 winners.

Prize C:A THANN amenities set. 50 winners.
※Prize images are for illustration purposes.
※Prizes may change without prior notification.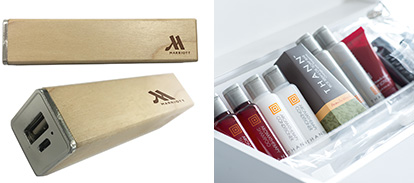 Announce-
ment of Winners
Announcement of Winners
After careful selection, only winners will be contacted after December.
Winners will be contacted directly through Twitter. If you don't respond within 10 days your prize will forfeit to a different applicant.
Entry Rules
・If the Company determines that the content of the work you enter falls under any of the following, the Company can exclude the work from publication or from the screening process without providing you with any kind of notice.
(1)The work violates these Entry Rules, etc.
(2)The work is offensive to public order and morals or may possibly be offensive to public order and morals.
(3)The work infringes the rights of a third party or may possibly infringe such rights.
(4)The work slanders a third party, violates the privacy of a third party, or may possibly slander or violate the privacy of a third party.
(5)The work violates laws and regulations, is connected to criminal acts, or may possibly be the aforementioned.
(6)The content of the work is such that the Company determines it does not match the intent, etc., of this campaign.
(7)The work interferes with the proper operation of this campaign, or may possibly interfere with such.
・We cannot respond to any inquires confirming your entry, or in relation to screening results.
・The handling of personal information: The personal information you submit will be used by the Mori Trust Group's hotel business, eating and drinking business, travel business, weddings and funeral businesses, real estate rental and management business, and financial instruments business for the purpose of product shipment, sending information related to products and providing related after-sales services.
・Note that the rights gained by a win cannot be transferred to another person, exchanged for cash, resold to a third party, or its content changed.
・The Company is not liable in any way or form for any problems, damages (direct or indirect), etc., that may arise to the entrant.
・Internet connection fees and communication fees related to entering the work to this campaign will be borne by the entrant.
・Note that the content of this campaign may change or be terminated without any advance warning.
・Prizes may change without prior notification.